Anyone who has undergone surgery frequently laments having trouble relaxing or sleeping. A large number of nerve fibers in the body that may induce pain makes the surgical process a highly difficult procedure to endure. Therefore, it's crucial to choose the right sleeping position.
We understand that it can be difficult to complete daily duties with one healthy arm, and it becomes even more difficult if your dominant hand is affected by your operation.
So, now it makes sense that many people would think about resting on a recliner chair. Not knowing How to adapt a recliner for right arm surgery becomes a hurdle.
This article will help you learn the ideal sleeping or lying down position to adapt to the recliner accurately, and will also address your other concerns such as, how long to spend in a recliner following shoulder surgery. Let's dive into it;
Adapting Your Recliner After Right Arm Surgery? [DIY Best Ways]
There is no need to overthink the process or call out any professional to help you adapt the recliner post-surgery. Because doing so is fairly simple and straightforward.
Here are the Steps to the DIY approach that do not require you to have any technical knowledge or professional help. Just go through them and get it done instantly.
Note: If this does not work for you, you can move on to other mentioned ways later on.
Step 1: Examine the compatibility between PVC and lever
The lever on the upper edge needs to fit snugly through into the PVC pipe aperture in order to proceed. Once they do, we can keep working on it.
If not, wrap the rightmost liver in sports plastic or velcro. Alternatively, you can use duct tape within the PVC pipe in the amount required for a snug fit between the hose and the chair lever.
Step 2: Attach the PVC pipes
This step involves joining the two PVC pipes up by using a PVC joint, properly gluing them, or using plastic adhesive to make sure they stay connected after ensuring they fit appropriately.
Step 3: Extending the left arm lever
After right arm surgery, you must attach the PVC pipes in a manner that you can use your left arm to operate the recliner.
Step 4: Hide the extended lever
If the PVC pipes are unsightly, you can cover them with socks or clothing, depending on your desire, to make them appear more artistic and appealing.
Apply spray paint that is close to the color of your recliner for a more realistic impression.
How Should a Manual Recliner Be Modified after Right Arm Surgery?
Since most of the work is already done when you use a power recliner, adjusting a manual recliner takes considerably more work than doing so. With a manual recliner, however, you only need to exert effort and are compelled to do those things.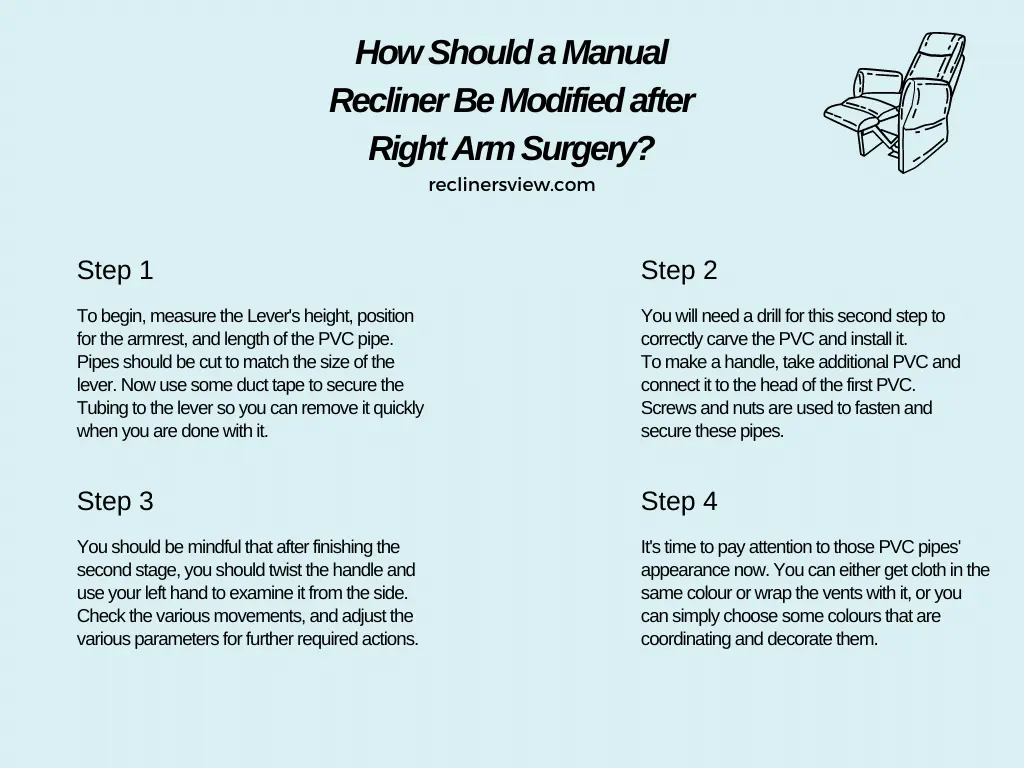 Step 1 – Measure the Lever's Height
To begin, measure the Lever's height, position for the armrest, and length of the PVC pipe. Pipes should be cut to match the size of the lever. Now use some duct tape to secure the Tubing to the lever so you can remove it quickly when you are done with it.
Step 2 – Drill to Carve the PVC
You will need a drill for this second step to correctly carve the PVC and install it. To make a handle, take additional PVC and connect it to the head of the first PVC. Screws and nuts are used to fasten and secure these pipes.
Step 3 – Twist the Handle
You should be mindful that after finishing the second stage, you should twist the handle and use your left hand to examine it from the side. Check the various movements, and adjust the various parameters for further required actions.
Step 4 – Pay attention to PVC Pipes
It's time to pay attention to those PVC pipes' appearance now. You can either get cloth in the same color or wrap the vents with it, or you can simply choose some colors that are coordinating and decorate them.
Some Other DIY Approaches to Adapt Surgery-Friendly Recliners
1. Utilize a Pillow
To provide the impression that you can use your left arm when resting, lay a pillow (or more) under it. The pillows will make it easier for you to push up from the chair and elevate and lower yourself.
2. Use of Ottoman
If you want a seat that will let you move around more while you're sitting on it, use an ottoman rather than a recliner.
With your strong arm, get up and out of the chair. With your other arm, pull yourself forward while using the other arm's free hand to press one foot onto the ottoman. This will enable you to cease pushing and pulling with all of your side panels when getting into and out of a recliner.
3. Seek Help
Sit next to someone else so they can assist you with pushing up on either side when exiting or drawing back down when entering.
How Long the Adaptation Should Last?
Your condition and whether or not you began physiotherapy will determine this. If your hand rehab is successful, you should see some progress on a daily basis. For this reason, it's critical to acclimate a recliner eventually. Apart from that, we urge seeing a doctor; to see what can be done if treatment doesn't work out and you're still having issues after six weeks. There may be something else that has to be addressed.
What Supplies Are Appropriate For Armchair Adaptations?
There isn't a single answer here; it all relies on what your provider advises and what is available at your home. Nevertheless, these precautions have been used successfully regardless of the sort of material involved, so if you carefully follow directions, there shouldn't be any issues.
Also, read a detailed answer to the most asked question: Are Recliner Chairs Bad for Your Back?
1. Sleep with your arm cuff on
Wearing your arm cuff while sleeping at night is essential, particularly in the first several weeks. By doing this, you can prevent your shoulder from moving too much.
2. Recliner Adjustment Guide
A 45-degree recline is often the best for resting in a recliner. This will keep your shoulder lifted while also relieving pressure on your lower spine.
3. Place a Pillow beneath the right arm
This will encourage healthy blood flow while you're sleeping. Additionally, hugging a soft pillow while you nap is really comforting.
4. Arm Surgery Support
It is recommended that you support your arm with extra comforters. If you find a duvet or towel more comfortable, you can also use it instead. Stopping your arm from slipping away from your body is the objective.
Why should you Adopt a recliner after right arm surgery? [Top 4 Health Benefits]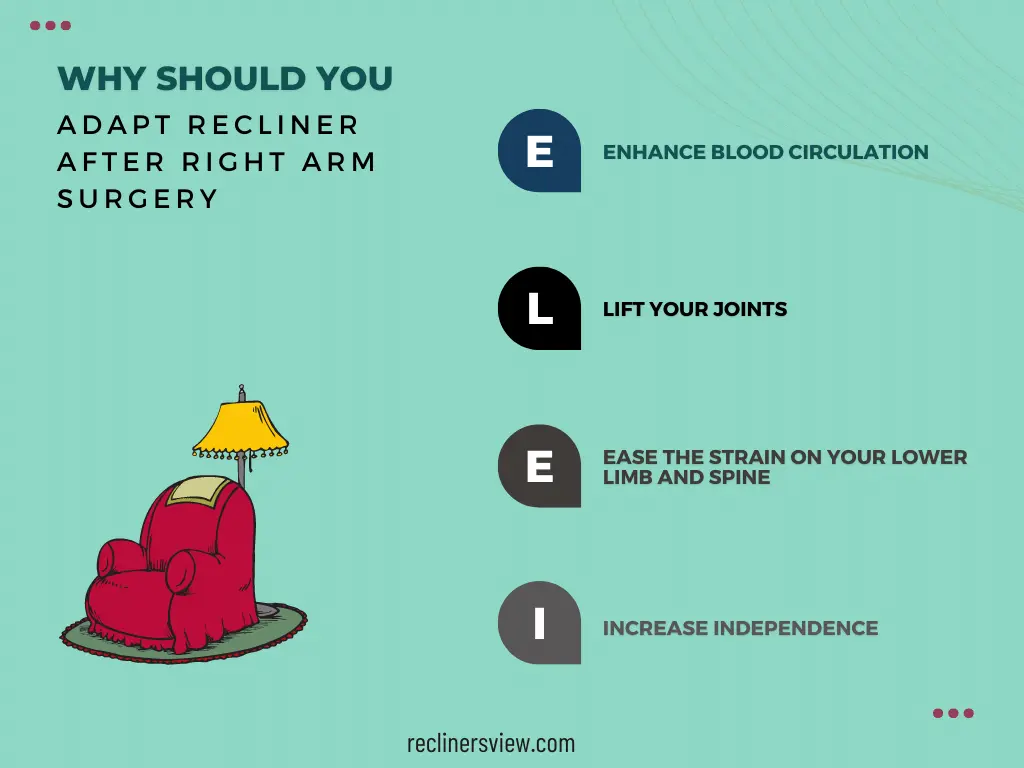 1. Enhance blood circulation
Following surgery, you might not be able to move around as easily as before, which could impair your blood flow. Riser recliners solve this issue by allowing you to adjust your position at will. This promotes blood flow and helps avoid fluid storage, which can result in edema.
2. Lift your joints
Post-surgery, many people claim that their riser recliner has become their greatest friend, and it is simple to understand why. You may easily adjust the angle of your chair with the push of a button to have your legs raised making it a huge source of solace and pleasure for many.
3. Ease the strain on your lower limb and spine
Healing following surgery can be incredibly difficult, primarily if you have to spend a lot of time sitting down for medical reasons. With the help of a riser recliner, you may tilt your chair so that pressure is momentarily relieved from your lower spine or limbs, giving you a much more relaxed and pleasant sitting position. Many individuals also choose the massage feature, which helps ease muscle pain and stiffness.
4. Increase independence
Your physical and mental health can both be significantly improved with the help of a recliner. Many people enjoy the sensation of being able to move around without having to wait or ask for assistance.
Can These Recliner Adaptations Harm in Any Way?
Unless utilized wrongly or over an extended period of time, this form of armchair modification won't harm anything. Even though you can alter a chair without anybody else's help, we advise getting expert advice to be sure the adjustment was implemented correctly.
Wrapping Up Guide to Adapt Recliner for Arm Surgery
After right arm surgery, you can finally resume your favorite hobbies and bid discomfort farewell while regaining shoulder strength and stability. To accomplish that, though, your shoulder must have enough time to heal, which calls for keeping it immobile for a while following surgery.
Therefore, with our given tips, adapt to a recliner for a quick recovery because it can benefit you in ways you have never imagined.