People in their older age experience restrictions in their movements a lot. The constant joint pain or backache requires older people to live an assisted lifestyle. A power lift recliner is a great option if you experience hindrance in your movements or have older people living with you.
According to the CDC, 22.7% of adults in the United States have some kind of bone issue. If you are one of them, a power lift recliner chair will assist you with your movements. A power recliner chair is ideal for anybody recovering from surgery or chronic back pain. Typically, a recliner chair is much more comfortable than a normal chair.
A recliner chair provides assisted movements, whether you have to stand, sit back or lie comfortably. There are quite a few easy-to-assemble recliner chairs available within the market that serve the purpose perfectly.
As per CPSC.gov, over 24 million people in the United States have recliner chairs. You may not have back pain issues or hindrance in movement and still enjoy a recliner. Its ability to provide body support and comfort is unbeatable. A recliner chair is the most fitting, even if you are looking for a super comfortable living room seat.
Mcombo Electric Power Lift Recliner Chair – Detailed Review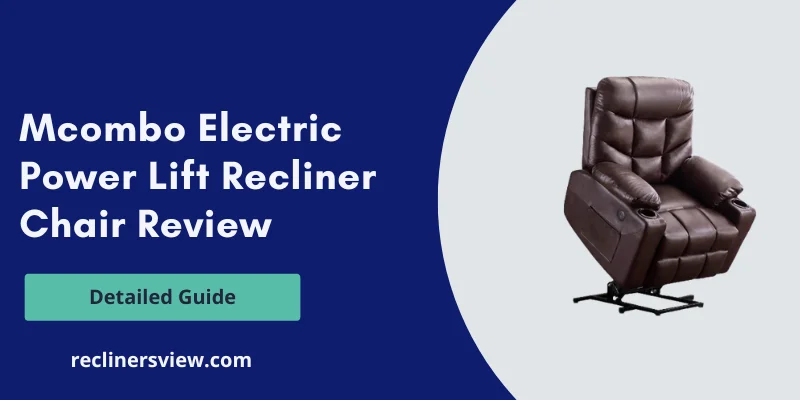 A couple of things matter when choosing the best Mcombo Electric Power Lift Recliner Chair. Don't worry; we have got you covered!
Why choose the Mcombo electric power-lift recliner?
The Mcombo company was established in 2011 as a brand to cater to customer comfort needs. It began as a brand providing durable furniture and pet supplies. However, the brand got real recognition for its electric power-lift chairs, famous for seamless comfort delivery.
The company has branches in Portland and Oregon with a separate distribution center. Mcombo has been successful in providing top-notch products and satisfying customers fully. Here are some features that make Mcombo power-lift chair top-of-the-line:
TUV Certified
The power assisted Mcombo recliner is TUV certified with counterbalance technology. Customers greatly favor their recliner chair due to its seamless assistance, which helps users stand up faster. It does not pressure the back, knees, or joints when standing or sitting. You can use two control buttons on the side of the remote to switch the chair position.
Easy to Put Together
The Mcombo recliner is one of the easiest chairs to put together. You don't require any tools to assemble it or a professional's assistance. It only takes 15 minutes to put the chair together. You also get a manual that guides customers completely about the setup process.
You may also be interested to read about: How Does a Power Recliner Work?
Product Overview of Mcombo Electric Power Lift Recliner
The Mcombo power-lift recliner is a faux leather and alloy steel recliner that works perfectly for tough use. It is a great chair for people dealing with stress in movement. You can use a chair with 140-degree reclination as it is perfect for lying down and sitting comfortably in a relaxing position. The Mcombo power-lift recliner chair has a longer life span as it is TUV certified. It has a USB port to charge your mobiles or other electronic devices.
The Mcombo power-lift recliner also has an adjustable high-rise back. The recliner will be comfortable for you if you are tall or short. It does not require any tools to assemble, which is ideal for beginners with no technical knowledge. On the other hand, the recliner is effortless to clean with a lint-free cloth.
You can also read about Lazy Boy Recliners for Back Pain
Key Specifications of Product Overview
| | | | |
| --- | --- | --- | --- |
| Brand | Mcombo | Seat height | 18.9 inches |
| Reclining angle | 140-degree | Ideal height | 5.1-feet-5.9-feet |
| Seat width | 18-22.4 inches | Maximum length | 67.7 inches |
| Voltage | 110-120 volts | Package quantity | 2 |
| Seat depth | 21.3 inches | Required clearance | 15.7 inches |
| Weight capacity | 320 pounds | Assembly required | YES |
Mcombo Electric Power Lift Recliner Features In-detail Review
Easy to maintain
One of the best parts about the Mcombo power-lift chair is its durable alloy steel construction and faux leather material. You can very easily clean the chair using oil and wax. Use a lint-free cloth to wipe the chair and revive its shine. The Mcombo chair is a long-lasting one providing a beautiful luster to it.
Counterbalance Lift Mechanism
The Mcombo power-lift chair has a counterbalance lift mechanism that helps people stand without putting stress on their knees. You can stand without assistance and use 140-degree reclination to customize the position according to your liking.
Low noise
People love the power lift chairs' low-noise mechanism, even during lifting. The chair barely makes any noise, and the two side buttons work seamlessly. It has a long service life span and requires little to no maintenance.
USB charging hub
You can use the chair to relax fully without moving from your spot. It has a USB charging port which you can use to charge your mobile or other digital devices. The two-cup holders on the side can easily hold drinks, and also you can use them to keep smaller items.
140-degree Reclination
The best part about the chair is the 140-degree reclination, as you can lean back and relax. Sitting straight, leaning back in a relaxing position, or standing up without putting pressure on the knees is best. You can use two push buttons to change positions.
Also read a detailed answer about most asked question: How to make a recliner into power recliner
Effortless to Clean
The chair is made of faux leather, which is very easy to clean. One of the best parts about the recliner is the two side holders where you can store small things or cups. You can use a small amount of oil or wax to clean the faux leather. Your chair will shine and look as good as new for a long time.
Pros
TUV certified actuator
USB charging port
Two cup holders
No tools are required for assembly
Two side buttons and a remote for operation
140-degree reclination
Cons
Material rips when used roughly
Final Thoughts
If you are looking for a high-quality yet affordable power lift recliner chair, the Mcombo one is a great option. It is quite hassle-free to assemble and has a low-noise motor. It provides effective support for seamless movements and accommodates effortlessly in any corner. Get your great afternoon naps and have endless reading sessions in this recliner comfortably!