A recliner is one of the few best purchases you have made so far When buying flair and stylish furniture for your home we know you cannot bear it when it slides on your wood floor, leaving irreversible scratches.
But do you know what?
Preventing the recliner from sliding across your flooring will just require a little research and possibly a short drive to your neighborhood hardware or craft store to get the right thing to fix it instantly.
Yes, you heard it right!
Getting rid of such a situation is not hard at all. Just bear with us till the end of this post, to learn how to keep the recliner from sliding on the wood floor.
So you can collapse into your recliner for some rest after a very long and tiring day with peace of mind while sticking your recliner to its place.
How to Keep Recliner from Sliding on Wood Floor – Getting Started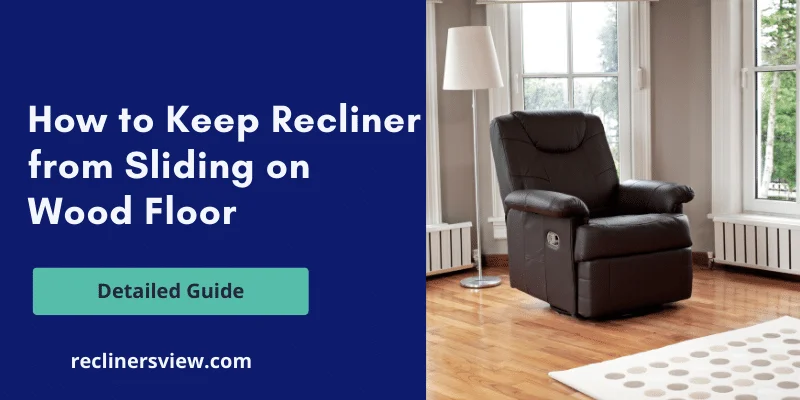 Before jumping into the solution, why not look at the root cause to know how and what recommended way will be helpful to your situation? Here we go;
Reason Why Your Recliner Keeps Sliding On
First off, the chair has a tendency to slide on every side of the wooden frame surfaces, and that could be a bit annoying while you're trying to relax. Furthermore, it can eventually, scrape and disfigure the timber's surface.
Smooth-surfaced wood is used for slick flooring and this makes it unable to grasp or produce any resistance, called friction. Most recliners have smooth-textured feet as standard equipment. It's among the few elements that cause slippage, too.
After a hard day, the chair is a great spot to rest and relax. If you prefer to rock and recline, a rocker recliner is a great alternative.
You may also be interested to read about How to Fix a Recliner that Leans to One Side
6 Effective Ways to Keep Recliner from Sliding on Wood Floor
By using floor protectors like a wool rug, gripper, chair pads, slip cushions, wood dowels, or heavy-duty fabric pads, you may prevent your recliner from sliding on your wood flooring. Let's examine the specifics, along with each advantage and disadvantage.
The top 6 strategies to prevent the sliding recliner on a firm wooden floor are listed below.
1. Anti-slip Recliner grippers
The first thing we advise is to use furniture grippers or pads. This material is intended to prevent a recliner or any sort of furniture with legs from gliding on a wooden floor.
It could be sofas, rockers, loungers, cabinets, and mattresses. Moreover, a compressed pad is your best choice if you don't frequently want to shift your recliner.
They often are accessible in square, cubical, and round shapes. These grippers are constructed from rubber-like, anti-slip materials like perforated rubber, which is why they don't really cling to the foot of the bases; instead, every leg re-poses on the base of a wad.
These protective pads cost less and are simpler to use in comparison and should be placed beneath every foot of your recliner or lounger.
Highs
Furniture grippers are rarely visible, therefore this is a very clever solution.
Good choice for almost all sorts of flooring. Apart from that, hardwood floors are extremely compatible with felt pads, so they would do the job too!
Economical.
Easily accessible.
Lows
Require frequent replacement, according to its condition.
2. Furnishing caster cups
Another reasonably priced option to eliminate abrasion on wooden floors is this. It's important to note that this product is made for recliners or furnishings with a wooden bottom.
Your recliner leg can fit into the caster cup thanks to their shape. To suit an extra-large size of recliner legs, certain models come with extra rings. They provide a far more artistic vibe and a straightforward strategy.
However, crock cups are not ideal for reclining seats with metallic frames, which is a slight drawback.
Highs
Long-lasting usage
Protects your flooring
Designed by experts to minimize friction
Lows
It might not work with a recliner having very large wheels
Not suitable for metal bases
3. Floor Mat for a recliner
If sliding is a concern, place an anti-slip floor mat underneath the seat. A chair with a broad base or legs that are hidden will work best.
The mat will offer support and aid in maintaining the position of the recliner chair.
Get the smallest mat you can that will simply cover the metal bottom of your chair if you want your mat to stay invisible below.
Highs
Easier to place
Pocket-friendly
Enhance the recliner's safety
Lows
Need to be replaced quite often
4. Cork-based furniture pads
A cork pad is the most economical solution you can explore. It also complies with environmental standards. It's a short-term fix, though, and you may need to replace it as needed.
There are ready-to-use cork pieces in squares or circles form are obtainable. Place them beneath the metal legs of the recliner. Verify that the corks are just a little bit larger than your supporting structure.
Corks are often stiffer than rubber grips. Your recliner might therefore be a little taller. Nevertheless, with time, the base or feet of your chair could progressively sink into the cork.
Every few months, we advise examining the pads for wear and replacing them if necessary.
Highs
Simple to use.
Very good grip for concrete floors.
Probably the least expensive choice.
Lows
Might make your flooring look ugly.
The rubber cushions that resemble socks are unappealing to some.
5. Sizeable Padded Rug
A large padded rug might be your top pick if the base of your recliner is made of metal.
Although it is an expensive option, you can be sure that it is worthwhile. For several types of recliners, a dense and sizable area rug placed on the wooden surface works beautifully. Thankfully, the mat also compliments the fantastic recliner.
Meanwhile, finding a right-sized or smaller padded rug for a recliner chair, unfortunately, is difficult. A little, thin rug also has an ability to curl up at the borders and that is bothersome at times.
Therefore, if you own multiple pieces of furniture, we advise utilizing a rug or setting a recliner seat under the rug.
Highs
Help lessen furniture sliding while simultaneously adding a lovely décor element to your room.
Lows
If placed on hard flooring, a rug cover of some kind will probably be needed underneath.
Could be pricey.
6. Wooden Blocks
Applying stopping blocks involves placing them behind the chair's frame or feet. These blocks can be made of wood or any other rigid material.
This barrier prevents the recliner from drifting backward. You must take a measurement of the distance between the recliner and the wall in order to place stopping blocks.
Set the block in front of the recliner after cutting it to the specified length. Stopping blocks have a pleasing appearance since they blend in with the floor, but they could also leave scuff marks.
Highs
You will take precise measurements and build the pieces specifically to fit your furniture.
Lows
You will have to create these yourself, so you'll need some basic equipment and handyman abilities.
It can damage carpeting, marble, and oak floors, particularly if used for massive things.
Also read a detailed answer about most asked question: Can Sleeping In A Recliner Cause Blood Clots?
Factors to Consider Before Placing a Recliner in Your Home
Also, read a detailed answer to the most asked question: 
Avoid setting your reclining chair on a hardwood floor if you own one because it makes it easier for you to slide out of your recliner rather than preventing slippage. Never leave damp rugs or plant pots on a wood floor as they could lead to the deterioration of wood.
Before putting your chair back in its original position on a wet floor, wipe it down with a damp microfiber towel.
What is the Most Suitable Recliner Pad?
Felt is the most widely used material for hardwood furniture pads. It glides over a wooden floor without grabbing the surface. All sizes of these felt pads are available. Perhaps felt that can be cut to fit oddly shaped furniture, like the bottoms of recliners, is available for purchase.
Alternatives to Avoid
Home appliance stores frequently sell furniture "cups" and "lower legs," but there are a few varieties you should stay away from using on wood flooring. The most notable of these are plastic cups.
Simple plastic won't likely stop your recliner from moving because it has weak gripping force. It might also leave surface scratches on your floor. Although felt-bottomed cups won't damage the floor, they also don't have much traction to prevent the chair from slipping.
Additionally, items marketed as cups typically have the size and shape of little bowls and are intended for use as slats. On a recliner's metal frame, they won't hold up well. A product that needs to stick to the floor or the bottom of your recliner should be avoided as well because it may leave a mess every time you relocate its position.
Wrapping Up Guide to Keep Recliner from Sliding on Wood Floor
You might or might not notice the chair moving back and forth over your flooring every time you engage the footrest on your recliner or even just sit down in it. But as time passes, those little movements cause the hardwood to become chipped or pitted.
Therefore, we have jotted down above the easiest solutions you get your hands on, to preserve your floor as well as your precious recliner.