People crave utmost comfort and relaxation after a long day at work. Your living room or bedroom is your den where you revive and rejuvenate. A durable and supremely comfortable bed is not enough; getting a comfortable chair to lounge around is also crucial.
Now, you will find a variety of sectionals and loveseats in the market claiming numerous things. However, nothing can beat a recliner's supreme comfort and ability to assist in movements. Whether you are looking for elegance or seamless support, a recliner can easily give you everything.
Recliners with padded armrests and back support are exceptional for unwinding after a tiring experience. The recliners will best suit any space, whether you have a traditional or contemporary style. They are undoubtedly bulky, but they are worth the hassle if you can't compromise on comfort.
Looking for a well-designed yet affordable recliner for your living room? We have you back because we found a recliner that best suits your needs. Let's dive into the article to find out about the amazing recliner!
Lane Home Furnishing Wallsaver Recliner Review
Brand Overview
Lane Home Furnishings Store is famous for its supremely high-quality and seamless customer support. Whether you have a contemporary or traditional taste, you will get great furniture according to your taste. Lane Home Furnishings was started by Ad Lane who barely had manufacturing experience. The company started in the early 1970s when Ad Lane bought an action company in Mississippi.
Over the next 20 years, Lane Home Furnishing grew into the most famous upholstery company beating the already existing ones in the market. It is still one of the best home goods companies in the United States.
Lane Home Furnishings employees' modern technology to ensure they stay on top of their game. They use a computerized inventory management system to track their manufacturing progress. On the other hand, the Computer Numeric Control system is one of their specialties for wood frame cutting. The company strives hard to keep up with its customers' demands without compromising quality. Over the years, Lane Home Furnishings has become the world leader in reclining upholstery.
You may also be interested to read about: Best Recliner for Degenerative Disc Disease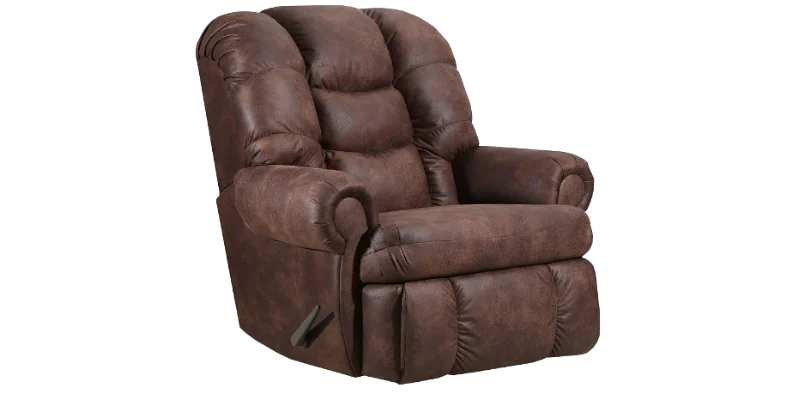 The Lane Home Furnishings wallsaver 4501-190 recliner is a great product for people looking for a chair maximizing comfort. Undoubtedly, the chair provides an optimal relaxing experience using its plush foam and comfort recliner king mechanism. Whether you are a petite or overweight person, its ability to handle 550 pounds weight extends its durability. One of the best things about the recliner is its contemporary design which suits any living space without effort. The chunky recliner design is not overpowering, fitting seamlessly even in narrow spaces.
The Lane Home Furnishing Recliner is a one-time investment that lasts for ages. It has a hardwood frame that lasts quite a few years, even upon rough use. The recliner has a lever on the side to help you adjust your position. On the other hand, it is made with 100% polyester, which is perfect for longer use. The material is waterproof and does not absorb water stains. The walnut brown color matches the aesthetic of most houses, merging seamlessly with any interior style. Let's have a look at some of its specifications!
Key specifications
| | | | |
| --- | --- | --- | --- |
| Brand | Land Home Furnishings | Material | Wood |
| Product dimension | 40″D x 44″W x 48″H | Item weight | 163 pounds |
| Color | Walnut | Style | Scandinavian |
| Frame material | Wood | Recommended weight | 500 pounds |
| Seat material type | Foam | Age range | Adult |
Lane Wallsaver Recliner Features In detail Review
Scandinavian Style
Lane Home Furnishings focuses on providing users with great quality and a spectacular outlook. The walnut chair color and clean-cut design give any home a refreshing look. It goes with most interior styles, whether you have a boho or minimalist aesthetic.
Weight Endurance
One of the greatest features of the chair is its weight endurance. It can handle up to 500 pounds, which is great if you have a big family. The drop-in coil seating system adds great comfort, providing excellent hip support.
Comfort King Mechanism
The comfort king mechanism provides ultimate support meant to last for decades. It has a built-in 7-gauge steel box which provides ultimate support and manages your weight perfectly. The royal-level recliner is great for people with physical limitations who cannot enjoy regular stiff chairs.
Rich Leather Cover
The Land Home Furnishings recliners are great if you have a royal yet minimalist style. They have a 100% polyester material adding the factor of breathability and durability. On the other hand, the suede leather covering adds a modern look to match the aesthetics of most people's homes.
Plush Handles
Recliners are made to deliver seamless comfort, which requires plush lining. Land Home Furnishings recliners have fully padded back to provide great support. Customers highly appreciated the plush padded handles for seamless support.
Hardwood Frame
The Lane Home Furnishings uses a computer numeric control system to cut uniform frames perfectly. All the recliner frames are made with hardwood to deliver years' worth of durability. The hardwood material makes it easier to endure 500 pounds weight.
Also read a detailed answer about most asked question: How to clean a microfiber recliner?
Pros
Handles 500 pounds weight
100% polyester material
Hardwood frame
7-gauge steel
Superior durability
Cons
The seat is stiff at first
FAQs about Lane Home Furnishings Recliner
What should be the doorway size to fit the Lane Home Furnishings Recliner?
It would be best if you had a standard-sized doorway to fit in the recliner. You can face trouble getting the recliner in if you have small or slim doorways. It is a little chunky; hence, you need an open doorway.
How can a tall person sit on the Lane Home Furnishings recliner?
Land Home Furnishings recliners are great for accommodating people of different sizes. Whether you are tall or a short person, you can easily fit into the chair. It can ensure up to 500 pounds of weight without sinking.
What is the gap between the back and seat upon reclining?
There is a 6-inches gap between the seat and the backrest in the reclining position. You can sit upright or lean back to relax.
Conclusion
The Land Home Furnishings store recliner has exceptional Comfort King technology for seamless support. Whether you have a minimalist or a loud style, the recliner will fit everyone's aesthetics. Go for it!