Most homeowners struggle to choose the ideal chair for their house. They then feel horrible and blame the maker, even though not every brand is harmful. It's not wise to choose a new product, such as a chair, based on its attractiveness or level of comfort and convenience. Many of us choose products randomly, or if someone says theirs is the greatest, we believe them. It is incorrect.
To what extent a certain chair is suitable for a given individual—and therefore, how comfortable people find it—will depend on their unique body measurements and build. The advantages of a recliner won't be maximized with the improper model.
Alternatively, the right one allows unrestricted blood flow, facilitates deeper breathing by opening the diaphragm, and relieves strain on the spine. As a result, you'll feel rejuvenated after releasing your fatigue. So, what's the magic on How Should a Recliner Fit Your Body perfectly? In this piece, we'll discuss what to look for when selecting a chair that's the right fit for you.
How Should a Recliner Fit Your Body?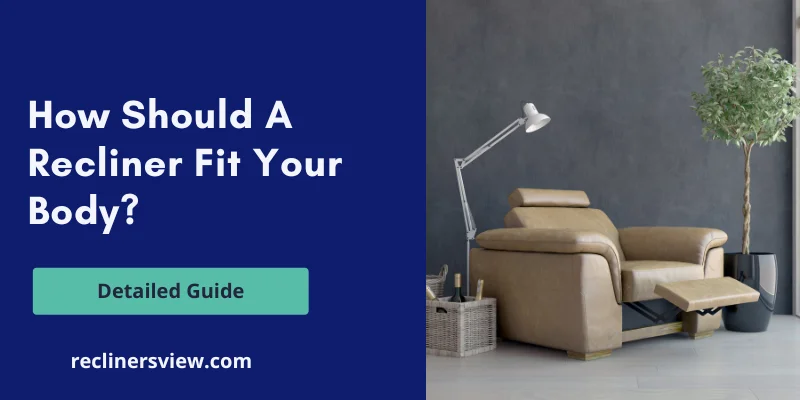 Take These Factors into Consideration to Ensure the Recliner Fits Your Body.
Step 1: Consider the Recliner's Functionality
Determine the primary purpose for which this chair will be used. In what ways will this swivel chair be utilized? Who will be reclining on the chair? To that end, you can choose from four different functional possibilities.
Rocker – You can rest on a rocking chair as you rock back and forth.
Lift – A motorized lift recliner can help you get in and out of the chair if you have trouble getting up from a sitting position.
Power-One option for those who have trouble standing up straight or bending over for long periods is a power recliner, a motorized chair that can be leaned back with the push of a button.
Manual – You pull a lever or lean back to recline a manual recliner.
Step 2: Select the Right Size
Selecting the appropriate dimensions for your recliner comes second after the chair's practicality and aesthetic appeal. If you have a varied body type, such as tall, short, stocky, or thin, it is essential to choose a chair that corresponds to your physical body type to get the most comfort possible.
Step 3: Take into Consideration the Recliner's Surrounding Space
People have the misconception that the only thing a user needs to consider is their size to get a chair that fits them and provides them with comfort and connection.
However, to sit in your recliner in comfort, you will need to ensure sufficient room for it. Without this space, you will not be able to sit in your chair. In this regard, you must also take the time to measure the room in which your reclining chair will be placed.
While you put your recliner in your office or nursery, you need to make sure that it is positioned so that it does not have anything nearby that is inside its range of motion when reclining or performing any other action. You must have a clearance of around 10 to 15 inches in various situations, such as reclining, swiveling, raising, etc.
It can not seem vital to clear the area surrounding your chair but believe me, this one. Because we are speaking from personal experience, we can tell you that it affects how well your chair fits.
Step 4: Flip the Recliner Upside Down
This is the method through which you can determine whether or not the chosen chair would be financially feasible. Therefore, you should request that your sales agent move the chair forward so that you can see the engine.
The quality of the product is severely compromised if the sales agent is unwilling to invert it for demonstration purposes. If, on the other hand, he is permitted to turn it on its side, there are a few things that you need to double-check:
Mesh Layer – Is there a mesh between the springs and the padding? The mesh insert prevents excessive shredding by distributing your weight evenly over the cushion. There can be springs ripping at the cushion where the mesh used to be.
Base Material – Can you tell me what the bottom is made of? Recliner frames are often made of plastic or oak. Plastic legs don't hold up since they're cheap, look bad, and wear out fast. Hardwood bases, on the other hand, are sturdier, more aesthetically pleasing, and more long-lasting.
Four-Sided Frame – Because it can sustain more weight and survive longer than a two-thirds-sided frame, which tends to give under pressure.
Step 5: Make Sure the Recliner's Customizable
You are getting very close! Your reclining chair ought to allow for complete personalization of its features. Because of this, you now have the chance to make some last-minute adjustments to the reclining chair of your choice, following your tastes. You can personalize your recliner to be one-of-a-kind with the help of the many upholstery, handle, and upgrade choices that are accessible to you.
You may also be interested to read about Best Recliners For Heavy Person
Bottom Line
We are hopeful that you now know How Should a Recliner Fit Your Body perfectly. I extensively studied this subject to provide you with factual knowledge and the greatest possible product to meet all your needs.
Getting a chair tailored to your body is not all that difficult and is an exact fit for you. However, while purchasing a recliner chair, you need to consider four key things: the design, the size, the functioning, and the customization options.